How to use Ameo Life pH Balanced Structured Silver Products
Choosing the right form of supplementation and then learning how to use the products to achieve the best overall success can be a daunting task.

Our goal is to help describe Ameo Life products along with their wide variety of usages in naturally complementing overall wellness.
60 Day Money Back Guarantee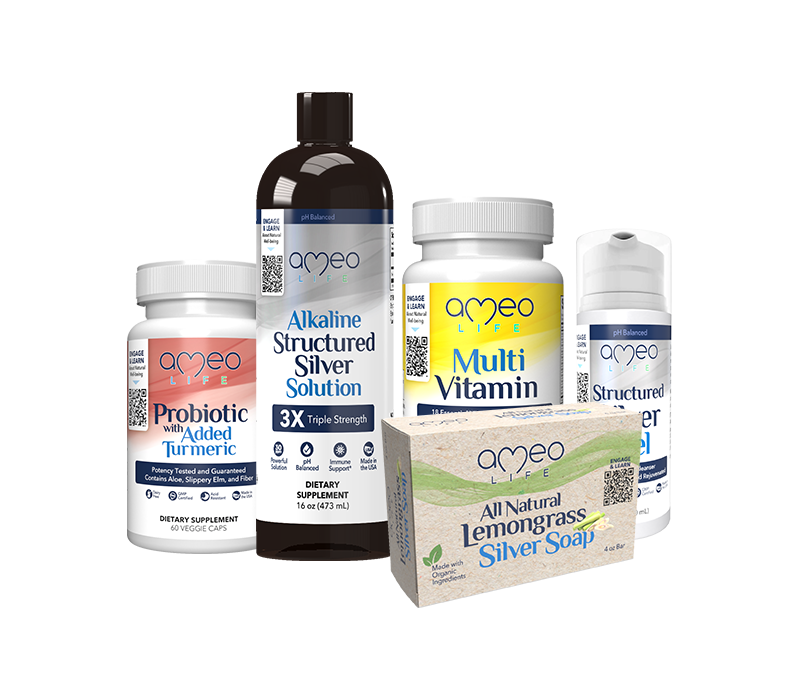 Ameo Life is dedicated to delivering simple natural formulations with ingredients that have not been altered in a laboratory, or filled with toxic preservatives or additives. You'll save money too, understanding that just a few products can go a long way to naturally promote wellness inside and out.
You can expect to find only the finest, purest and most natural form of supplementation in all of Ameo Life products. For example, our pH Balanced Alkaline Structured Silver offers countless wellness opportunities.
pH Balanced Alkaline Structured Silver naturally cleanses bad Bacteria, Yeast, Fungus and Mold.
When we look at the many aspects that negatively impact our bodies, in many if not most cases these can be attributed to harmful bacteria, fungus, yeast or mold.
Common sense indicates if we can address the root of a condition, we can make a very positive overall impact on the body.
We hear amazing stories like these from our customers!
S

Everyone should experience the beneifits of pH Balanced Alkaline Silver
My experience with pH Balanced Alkaline Silver . There is nothing like it on the planet and very happy with it, I highly recommend it. It keeps me healthy which is important to me and my family as well. It is truly a blessing and can't say enough good things about it. Invest in your health, for a healthy and happier you...and your family. Everyone in my opinion should experience pH Balanced Alkaline Silver and never be washout it. It is truly amazing. Thank you Ameo Life for such a great product.
Sheila S. |

Verified Buyer
Tips for making Ameo Life products a part
of your daily wellness routine